How To Make An Offer On A House
Share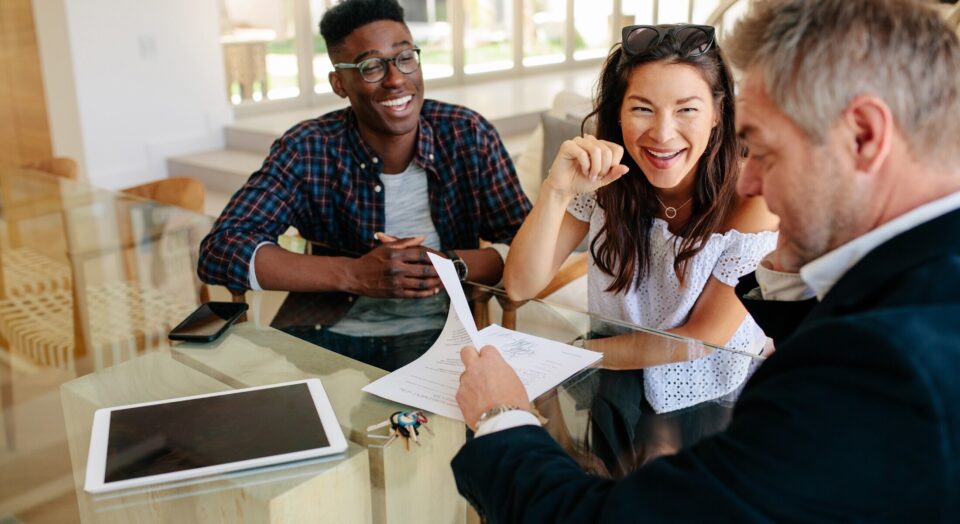 You only need to watch a few episodes of House Hunters or Property Brothers on HGTV to get the idea that making an offer on a house, while an exciting life moment, can also be fraught with some ups-and-downs. Will the seller counter? Is there a better offer already on the table? What if you get caught in a bidding war?!
These questions tend to keep homebuyers—especially first-timers—up at night. That's why the Member One Mortgage Team has put together this guide to making your offer as financially bulletproof as possible!
If you're wondering how the entire process of buying a home works, read our Complete Guide to Homebuying on a Budget. This invaluable resource offers everything you need to know about buying a home, from setting your budget to move-in day.
First, a quick run-down of the home offer process:
1. Decide your starting offer, with the help of your real estate agent. Consider factors such as your budget, the selling prices of comparably sized homes sold in the area over the last six months or so, and what kind of work will need to be done on the house after you move in.
2. Pick your contingencies and include those in the offer. Home inspections are a standard contingency. If you already own a home, you may wish to include a contingency that lets you out of the deal if your current house doesn't sell.
3. Your real estate agent submits the offer on your behalf.
4. The seller either accepts or declines your offer, or makes a counteroffer.
5. If the seller makes a counteroffer, the back-and-forth can continue until a deal is reached or until one or both parties decides to "walk away" from the negotiation.
Of course, there are more details involved in this process than we'll get into here—but not to worry, your real estate agent will walk you through all of it when the time comes!
Strengthen your offer with preapproval.
Making an offer on a house means more than just stating how much you want to pay—you also need to provide proof that you're able to pay that amount. And, in a competitive market like the one we've been seeing the past few years, the proof needs to be ready before your agent takes you to tour that perfect place. Luckily, if you start working with your lender early on in the homebuying journey, they can provide you with a preapproval letter.
The preapproval determines the amount you can expect to have offered to you as a home loan. Here's a summary of the preapproval process:
1. You fill out a formal application.
2. You provide your lender with documents like W-2s, pay stubs, monthly expenses, and a list of your current assets.
3. The lender checks your credit report and verifies your income.
4. The lender gives you a preapproval letter, which you can present to the seller when you make an offer on a home.
Don't wait until the last minute to start this step! In a situation where a seller could potentially receive multiple offers, having your preapproval letter in hand could give you the edge you need over other buyers. Our mortgage specialists here at Member One will be glad to go over the preapproval process with you.
If all this sounds complicated, don't worry. With a good real estate agent and trusted lender in your corner, you'll do just fine.
Get your finances in order
In a seller's market, many real estate agents stress the importance of making an offer as soon as you know you want to buy. That means it's essential to straighten out your finances ahead of time. It's also important to avoid making any major purchases once your offer is accepted. So, though you may want a new couch to go with your new home, wait until after closing day!
Here are the major upfront costs you'll need to consider when you make your offer:
Earnest money
"Earnest money" demonstrates to the seller that you're serious about buying. It's a deposit that is held in an escrow account, and can range from $500 to ten percent of the agreed-upon purchase price (but in our market, is typically closer to $500). If all goes well on the deal, this money is usually deducted from what you owe the seller at closing. If you walk away from the deal for any reason not stipulated in your contract, you forfeit the money to the seller.
Down payment
You'll need to be prepared with whatever down payment your lender requires (if any). This means more than simply having the funds saved—you need to have instant and direct access to the full cash amount. Before you make your offer, be sure that any deposits and/or transfers have cleared and are in your designated homebuying bank account.
Closing costs
Do you want to ask the seller to cover any closing costs for you? In our market, this is fairly common practice—but, you need to address this in your offer, otherwise it's assumed that the buyer will pay.
Get help from the pros
If all this sounds complicated, don't worry. With a good real estate agent and trusted lender in your corner, you'll do just fine. The Member One Mortgage Team specializes in local, personalized service that helps make homebuying simpler to understand. Our mortgage loan originators will walk you through the entire process. From a preliminary financial review all the way to making an offer, we're here to help!
Connect with a Mortgage Expert
Click here to set up an appointment with a Member One mortgage specialist.