Your Credit Score. And More. Anytime. Anywhere.

With one powerful tool, access your credit score, full credit report, credit monitoring, financial tips, and education. All of this, without impacting your credit score.
You can do this ANYTIME and ANYWHERE for FREE.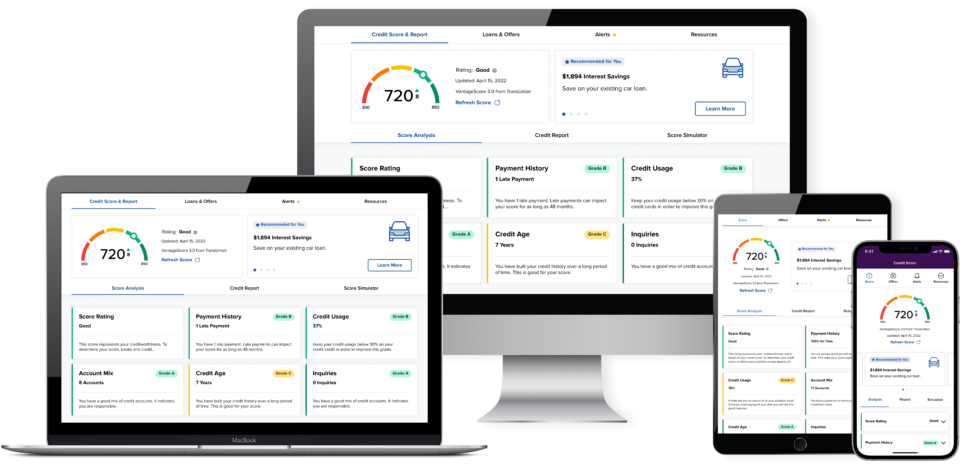 Your Credit Score. Daily. And Secure.
Staying on top of your credit has never been easier. Access your credit score and report in both our Mobile App and Online Banking platform.
Benefits of Credit Score
Daily Access to Your Credit Score
Real-Time Credit Monitoring Alerts
Personalized Credit Report
Frequently Asked Questions
A credit score is a three-digit number calculated to indicate your credit worthiness. The higher the score, the more credit worthy you are to a lender. Credit score is calculated from information in your credit report and takes into account whether you have been making on-time payments, your revolving debt use, length of your payment history, and other such factors. It is important to know that your score does not take your age, income, employment, marital status, or your bank account balances into account. You can learn more about credit scores and scoring models from the Consumer Financial Consumer Financial Protection Bureau website.
VantageScore® was founded by the three leading credit reporting agencies – Experian, Equifax and TransUnion. This credit score model was developed by a representative team of statisticians, analysts, and credit data experts from each of the credit reporting companies, and is used by hundreds of institutions, including credit unions, banks, credit card issuers and mortgage lenders. The VantageScore® 3.0, the score that is shown in SavvyMoney, is a newer and more popular version of VantageScore®. It is calculated on a scale of 300-850, with 300 being the lowest and 850 the highest score.
No. It's entirely free, and no credit card information is required to register.
No. Checking your credit score on Credit Score is a soft inquiry, which does not affect your credit score.
Each credit bureau has its process for correcting inaccurate information, but every user can "File a Dispute" by clicking on the "Dispute" link within the Credit Score credit report.
No. The credit score provided is intended to help you understand the factors that affect your credit score. It is not used for loan-approval purposes, or for determining loan rates. Member One loan rates and approvals are based on information provided to the Credit Union when you apply for a loan. The credit score found in that credit report may be different than the credit score you see within this tool.