18 Ways to Cut Your Car Ownership Costs
Share
Americans love their cars, but it's an expensive affair. According to a 2022 AAA report, the average yearly cost of ownership for a new vehicle is $10,728. That figure includes fuel, maintenance, insurance, and loan interest, and while it was calculated with the assumption of a new model, drivers of older vehicles know that car-related expenses are a constant.
Now don't worry, this isn't about to become one of those articles that urge you to ditch your wheels for public transportation or walking. We've assembled some ideas for cutting back on ownership costs and loving your car for less.
To save money at the pump:
Use apps like Gasbuddy to locate the cheapest fuel stops along your commute.
Stick with regular gas unless your owner's manual instructs otherwise. Some high-performance vehicles do require high-octane fuel and some older cars may run better on ethanol-free gas—but for most newer models, there's no real benefit to paying more for the premium stuff.
Keep your tires properly inflated for increased fuel savings and greater safety on the road. Check your tire pressure at least once a month.
Choose a more efficient rear-mounted storage unit, instead of a rooftop cargo carrier (which can decrease fuel economy by as much as 25 percent).
Now, we're not here to tell you how to drive. But do keep in mind that slamming the brakes and accelerating quickly does tend to burn more gas. You can get more mileage by avoiding aggressive driving. On highways, try using cruise control to maintain an even speed.
Don't be in a rush (we know, easier said than done). For many makes of cars, gas mileage starts to decrease above 50 miles per hour, and every 5 miles per hour above 50 can cost you as much as $0.20 extra on each gallon of gas.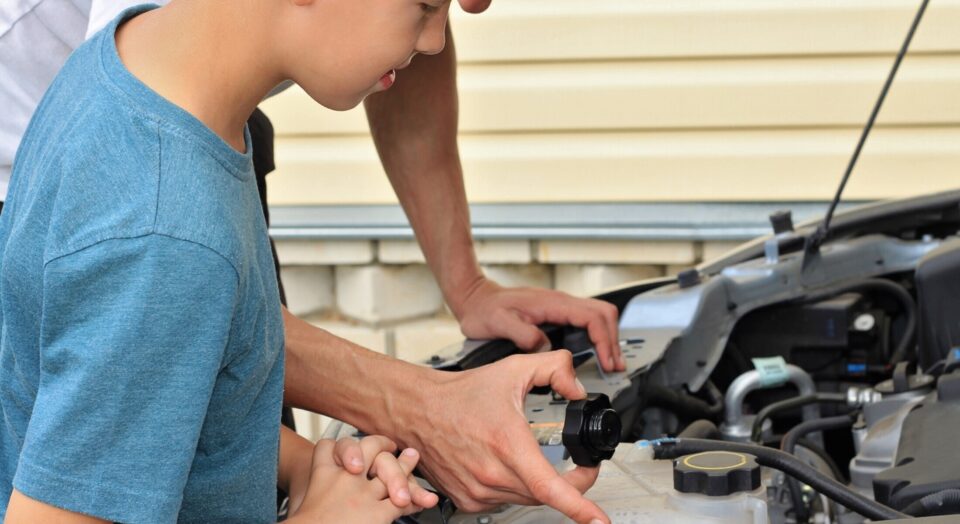 To save money on maintenance:
Learn how to rotate tires, change oil, and replace air filters yourself to save hundreds of dollars each year.
Check fluids and air filters at least once per month to stave off more costly repairs and replacements.
Have your tires balanced once each year to get more miles out of them.
Keep up with your vehicle's scheduled maintenance, as laid out in your owner's manual. Following suggested timelines for things like oil changes and tire rotations helps keep your car running smoothly and safely for longer. Stash maintenance records with the rest of your car paperwork to stay on track (you can also show these to an interested buyer if you ever choose to sell the car).
Don't feel wedded to your dealership's service shop. While there are some benefits to taking your car back to the dealer for repairs, you may be able to save money by going to an independent mechanic instead. Word of mouth is a good way to find someone reliable.
Research reasonable cost ranges for repairs so you're not going in blind at the service shop. Online tools such as the Car Repair Estimator by Consumer Reports can give you an idea what to expect.
To save money on monthly bills:
Look into getting a better rate for bundling your auto insurance with your homeowner's insurance.
There are so many different discounts out there for auto insurance, it's likely that you're eligible for at least one. Potential discounts can be earned for things as varied as organization affiliations, anti-theft devices on your vehicle, staying with one insurance company for a number of years, or keeping a clean driving record. Discounts for setting up auto-debit or signing up for e-statements are also common. If you think your insurance rate could be lower, just ask! Your insurance company may offer a discount to keep you as a customer.
Find out whether taking a driver's safety course could earn you a lower insurance rate, especially if your driving history could use a bit of cleaning up.
Do you have high school students on your auto insurance policy? If they're making good grades, that could qualify you for a discount. Ask your insurance company if they offer this benefit, and be ready to provide report card copies.
If you have a college student on your policy living away on campus without a car, you may be able to score a discount—check with your insurance company.
Feel like you're not getting the best possible interest rate on your auto loan? Don't be afraid to consider refinancing. Check first with local banks or credit unions, as they tend to offer better rates. And if you're currently on the car hunt, be sure to look beyond dealer financing and consider all of your auto loan options.