Member One Receives Platinum Recognition for Best Credit Union by The Roanoker
Share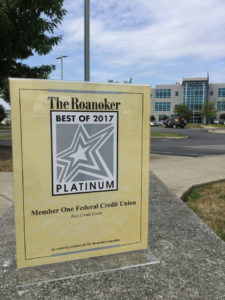 Member One was recently recognized by The Roanoker magazine in its annual Best of Roanoke awards and received the platinum recognition, the top honor, for Best Credit Union. Readers of The Roanoker vote each year on their favorite businesses, schools, restaurants, and even local celebrities.
The platinum recognition demonstrates the credit union's connection to its community. Member One positions itself as a dependable and community-focused financial institution through employee volunteerism, local sponsorships, and a demonstrated philosophy of putting people before profits.
"Member One is honored to be recognized as the best credit union by the community and our members," said Paul Economy, Chief Retail Officer. "It's wonderful to be acknowledged among other local businesses and organizations that are playing their part in making Roanoke a great place to live."