Member One Provides Funding and Volunteer Support at Annual Clothing Drive
Share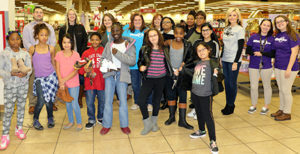 Member One recently provided financial and volunteer support for a coat and shoe drive for children enrolled in the Community Youth Program (CYP) at St. John's Episcopal Church in Roanoke, VA.
"Member One is pleased to support this program year after year through financial and volunteer support," said Andrea Milliron, Vice President of Business Development. "We are grateful for the opportunity to have a direct impact on area children and to provide an outlet for our employees to experience the rewarding nature of this event."

The funding provided by Member One allowed CYP students to purchase coats or shoes for the winter season. The students, accompanied by CYP employees, traveled by bus on two different afternoons to Burlington Coat Factory in Roanoke to pick out their items. Each day, Member One volunteers helped students shop and make independent choices about items that would best serve them throughout the winter months.
"This shopping experience gives the children a sense of choice that they don't always get at this age," said Kathleen McEvoy, Executive Director of CYP. "Part of the experience is helping the kids learn how to interact with sales staff at the store and the best way to select items that are appropriate."
CYP is a 501 (c)(3) non-profit organization that provides enriching after-school, summer, and leadership programs for at-risk Roanoke-area youth in grades four through eight. Its mission is to encourage learning and the development of a positive self-image and to provide a network of support for students and families.