Member One donates Easter Baskets to Carilion Children's Hospital
Share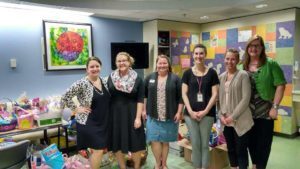 Member One recently donated Easter baskets to children at Carilion Children's Hospital.
The entire credit union came together to create a variety of baskets for boys and girls of all ages. Over 120 Easter baskets were donated in an overwhelming display of generosity.
Member One regularly contributes financially and with volunteer time throughout their footprint as a way of giving back to the communities that generously support them. The Easter baskets were a fun way for Member One employees to make the kids hospital stay just a little easier.

Employees at Carilion Children's Hospital were thrilled to see all the baskets. They have been experiencing high patient volumes, and this donation helped to ensure every patient received a treat on Easter day.
"Every year, Member One goes above and beyond to help make sure the pediatric patients at Carilion Children's Hospital have a joyful spring and Easter," said Sarah Kress, Lead Certified Child Life Specialist. "The children and families were delighted to receive the beautiful Easter baskets filled with goodies, and all the fun toys and items have kept the patients entertained!"
Member One has a focus on helping the communities it serves in all capacities, and this is another example of the credit union putting people before profits.