Member One and Its Members Donate $20,000 to Support Disaster Relief Following Hurricanes
Share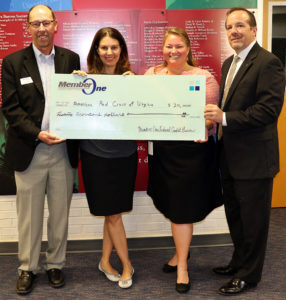 Member One partnered with its membership to provide financial support to the disaster-response efforts of the American Red Cross following the recent devastating hurricanes.
Throughout the month of September, members of the credit union could donate directly to the American Red Cross using their Member One debit or credit card, or make donations at their local Member One location. Each donation was matched, dollar-for-dollar, by the credit union for a total of $20,000.
"Member One's focus is on helping those in need during times like these," said Paul Economy, Chief Retail Officer. "I'm proud that our generous credit union members came together to provide critical support to help those affected by the recent hurricanes."
The donations will go toward providing shelter, food, comfort, and emergency assistance.
"In just the last month, the American Red Cross has launched a wide-ranging relief effort of food, shelter, and emotional support to help people devastated by three historic, back-to-back hurricanes—Harvey, Irma, and Maria," said Jackie Grant, Executive Director of the American Red Cross Virginia Region. "We anticipate more and more Virginians heading to help, and we will be there as long as we're needed."