Member One Donates to Two NRV Charities
Share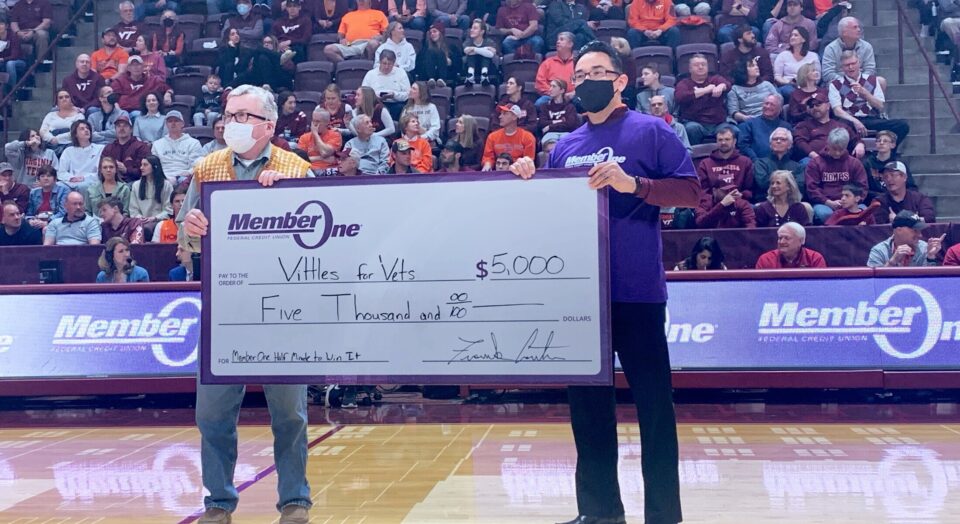 Pictured: Member One presents a $5,000 donation to Vittles for Vets at the last regular season Virginia Tech men's basketball game. L-R: Bill McCann, Vittles for Vets Founder and Rich Socha-Mower, Chief Lending Officer at Member One.
ROANOKE, VA (April 5, 2022) — Member One Federal Credit Union recently presented a $5,000 check each to the Women's Resource Center of the New River Valley (WRCNRV) and to Vittles for Vets as part of their affiliation with Virginia Tech basketball.

During the 2021–2022 Virginia Tech men's and women's basketball season, a student was randomly selected at each game to play 'Half Minute to Win It,' offering them a chance to win up to $350 based on their skill at shooting baskets. The students were also playing for a matching donation to one of the non-profits ― Vittles for Vets was represented at the men's games and WRCNRV was the focus at the women's games.

"We had great fun cheering on our participants in the 'Half Minute to Win It' contests this season," commented Lori Cauley, Chief Brand & Experience Officer at Member One. "And even if those participants didn't walk away a winner, we made sure the non-profits they were shooting for did! We were honored to contribute to these remarkable non-profits and help raise awareness for their causes."
"The Women's Resource Center is honored to be the recipient of this generous gift! In our 45th year of service, our vision of a community free of sexual and domestic violence can only be realized with the support and partnership of organizations like Member One," said Laura Beth Weaver, Executive Director of WRCNRV. "With the ever-changing state and federal funding allocations, community support is more important now than ever. We are grateful to be spending this on victims of sexual and domestic violence."
"On behalf of Vittles for Vets charity, I wish to offer a heartfelt thank you to Member One FCU for selecting this veterans' charity as the recipient of the VT men's basketball fund raising event," stated Bill McCann, Founder of Vittles for Vets. "This most generous gift of $5,000 will provide 100 weeks of $50 food gift cards to our at-risk veteran neighbors."
Member One plans to bring back the 'Half Minute to Win It' contest for the 2022–2023 Virginia Tech men's and women's basketball seasons, with new chances to win for both fans and non-profits.
Women's Resource Center of NRV is a non-profit, human service organization, providing programs and services to adult and child victims of sexual and domestic violence. https://www.wrcnrv.org/
Vittles for Vets empowers those who have served our country honorably and have fallen on hard times to see a brighter future through the gift of nutritious food. https://www.vittlesforvetsradfordva.com/