Member One Employees Graduate from Leadership Roanoke Valley Program
Share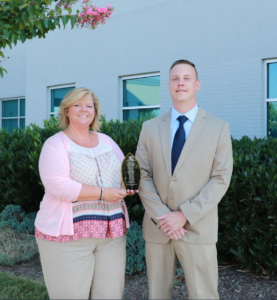 Member One practices the credit union motto of People Helping People every day through low loan rates and high dividend rates, but we also encourage our employees to practice it in our community. That's why we're proud to announce that two of our employees have graduated from the 2017 Leadership Roanoke Valley (LRV) class: Angie Austin, Rocky Mount Market Manager, and Joe Martin, Business Analyst and Underwriter.
LRV is an interactive program that focuses on leadership skills, problem solving, and community involvement in the Roanoke region. Each year, Member One nominates two employees to participate in this important program. All of the participants work together to shed light on issues affecting the region and come up with ideas and programs to help mitigate them.
When asked about his experience in the program, Martin said, "LRV was an excellent opportunity to see many of the great organizations and people who are working each day to make the Roanoke Valley such a great place to live. This leadership program has definitely opened my eyes and encouraged me to play my part."
As a market manager, Austin is used to leading others. This experience allowed her to step out of her comfort zone, giving others the opportunity to take the lead. "I am always the one encouraging others to push themselves to another level and think outside the box." Austin said. "With this, I was on the other side."
Congratulations, Angie Austin and Joe Martin, and thank you for making People Helping People a reality in our region.