Member One Employees Deliver Easter Cheer to Young Patients!
Share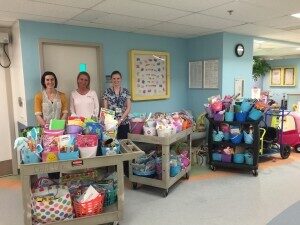 No one wants to be in the hospital over a holiday—least of all kids.
So, Member One employees rallied enthusiastically to the call to put together Easter baskets for patients spending the holiday in Carilion Children's Hospital. In an overwhelming display of generosity, our employees made a staggering 110 baskets full of goodies.
Beth Fulcher and Vickie Meador from our Human Resources department delivered the baskets to some happy youngsters on Good Friday. We certainly hope they made the kids' hospital stay just a little sweeter!