Member One's Denim Day Benefits Lynchburg Humane Society
Share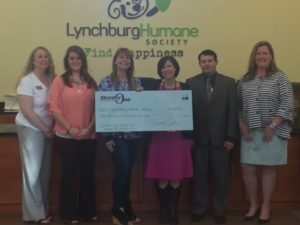 Each year, Member One Federal Credit Union employees are invited to participate in its quarterly "Denim Days for Charities."
Local organizations are chosen by Member One to receive monetary proceeds in exchange for employees having the privilege of wearing jeans on the specified Denim Day each quarter. The minimum amount employees must pay to wear jeans is $5; many of them typically contribute more.
The recipient of the first Denim Day of 2016 was the Lynchburg Humane Society. Clearly, Member One employees have a soft spot for homeless animals since they combined to raise $1,000.
According to Kim Braswell, Chief Administrative Officer, such displays of generosity have become the norm at Member One. "Our employees need no second bidding to support local charities in our footprint," said Braswell. "While our culture has traditionally been one of public service, I am always gratified to see our employees' enthusiasm to give back to the community."
Recipients of funds raised from the future Member One Denim Days in 2016 will include organizations in the New River Valley, Roanoke, and Franklin County.
Above, from left: Terry Maddox, Market Manager, Lakeside Crossing Retail Center, Member One; Jessica Clarkson, Development Officer, Lynchburg, Member One; Julie Barger, Development Director, Lynchburg Humane Society; Makena Yarbrough, Executive Director, Lynchburg Humane Society; Ryan Bell, Market Manager, Timberlake Retail Center, Member One; Andrea Milliron, VP Business Development, Member One.