Member One Supports the Guns & Hoses Charity Hockey Game
Share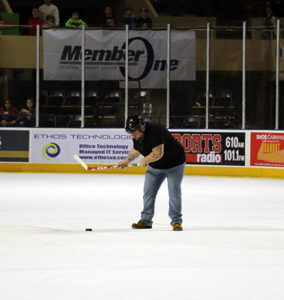 Member One was a proud sponsor of the 15th Annual Guns & Hoses charity ice hockey game, held at the Berglund Center in Roanoke on Saturday, January 20. Member One also hosted the puck shot contest which offers attendees a chance to take a shot at the goal on the ice for a prize.
"Member One is thrilled to be a part of this wonderful event," said Andrea Milliron, Vice President of Business Development for Member One. "We are impressed with how it has grown and are pleased to support such an important cause through our continued sponsorship."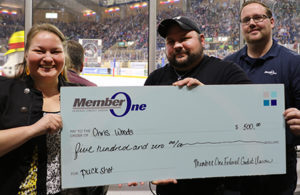 Member One has participated in this event for over five years. This year, Chris Woods of Buena Vista was selected for the puck shot contest and made the shot from the red line, winning $500 from Member One.
Guns & Hoses benefits the Muscular Dystrophy Association (MDA). Each year, the Roanoke-area firefighters (the Hoses) take on a team of Roanoke-area police officers and law enforcement personnel (the Guns). With a sold-out arena of 7,391 in attendance, $44,580 was raised for MDA. The event has now raised $332,900 in its 15-year history. The Hoses won the game with a score of seven to three.