7 Things You Can Do Today to Advance Your Career
Share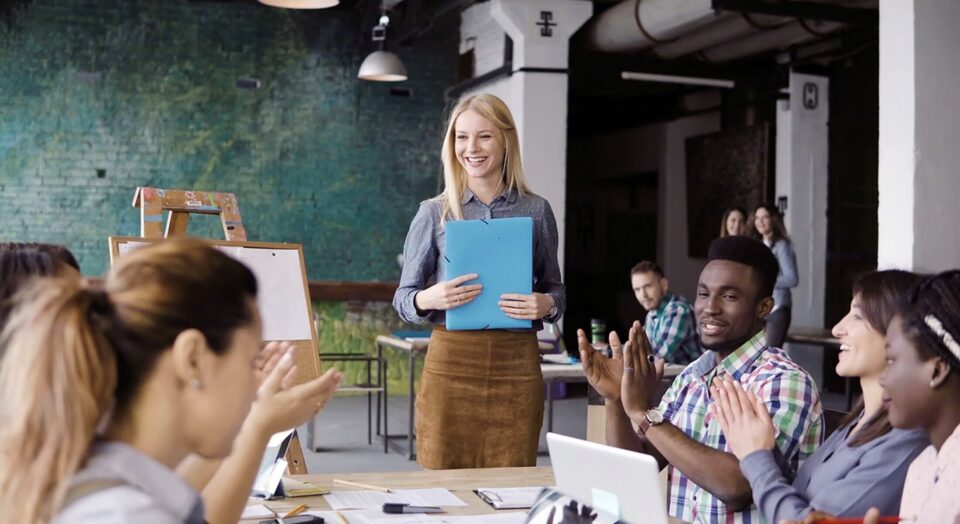 Career advancement isn't just something you suddenly do when it's time to apply at a new company or put in for a promotion—it's an ongoing process of learning new skills, meeting new people, and polishing your personal brand. It may not always seem like it, but your actions each day can add up to propel you forward. Here are seven things you can do right now to get ahead.

1. Learn something new.
You should always be developing relevant skills and staying on top of trends in your field. It's more doable than ever to teach yourself —you just have to put in the time. Watch YouTube videos on how to use that software that seems to show up in the "desired skills" section of every job posting you see. Listen to a podcast on business news. Spend 20 minutes on an app that teaches basic coding or conversational Spanish. Download a recent book by an industry expert. (Or read a blog post like this one on how to develop your career!)
2. Put together your portfolio.
This isn't just something for artsy types. Your portfolio of work can showcase screenshots of websites you've developed, outlines of training presentations you've led, blueprints you've drafted for products, or advertising materials you've designed. You can also include recommendation letters and customer testimonials. You can opt for a physical portfolio kept in a nice binder, create a personal website, or do both.
3. Join an association or industry group.
Not only are professional organizations a means of networking—itself a highly important aspect of career development—many also offer seminars and other opportunities to help you keep your skills up-to-date (see above). And for members willing to take the extra step, these groups can provide the opportunity to demonstrate leadership by sitting on a panel or speaking at an event. You can join an association that's specific to your field—for example the American Marketing Association (AMA) for marketing professionals, the International Association of Administrative Professionals (IAAP) for administrative professionals, or the National Society of Professional Engineers (NSPE) for licensed engineers. Or, choose one with a broader membership like Toastmasters, which is for anyone wanting to practice public speaking.
4. Sign up to volunteer.
Volunteering in your community can provide the chance to practice new skills and demonstrate leadership. Plus, you never know whom you might meet, and connections in the community can often be helpful for career development.
5. Curate your online presence.
Update your LinkedIn page with your newly acquired skills and recent projects—or create your page if you don't have one already. (This is another place where you can show off your portfolio!) A succinct description and a quality headshot will go a long way in helping you to stand out. Review old Facebook and Instagram photos, including ones you've been tagged in, to ensure there's nothing out there that might seem unsavory to current or future colleagues. Consider tweeting or sharing an article that's relevant to your work, or following a few influencers in your field.
6. Update your work wardrobe.
You've no doubt heard the adage about how you should "dress for the job you want, not the job you have." The fact is that research does indeed support this old saying. Fair or not, customers and colleagues will consider your appearance when forming their impressions of your energy, attitude, and competency (whether consciously or unconsciously). Take a look at how those on the floor above you dress, and add a few smart pieces to your workweek rotation. There's no need to break the bank; you can often find great items at higher-end secondhand stores.
7. Take a quick break.
Science says that work breaks promote increased productivity, creativity, and decision-making, and can even improve your motivation for long-term goals (like advancing your career). So if you're fast running out of focus, forget trying to slog through things—take 15 minutes to walk outside, have a healthy snack, or chat with a good friend.