Seven Unexpected Ways to Save Money Over the Holidays
Share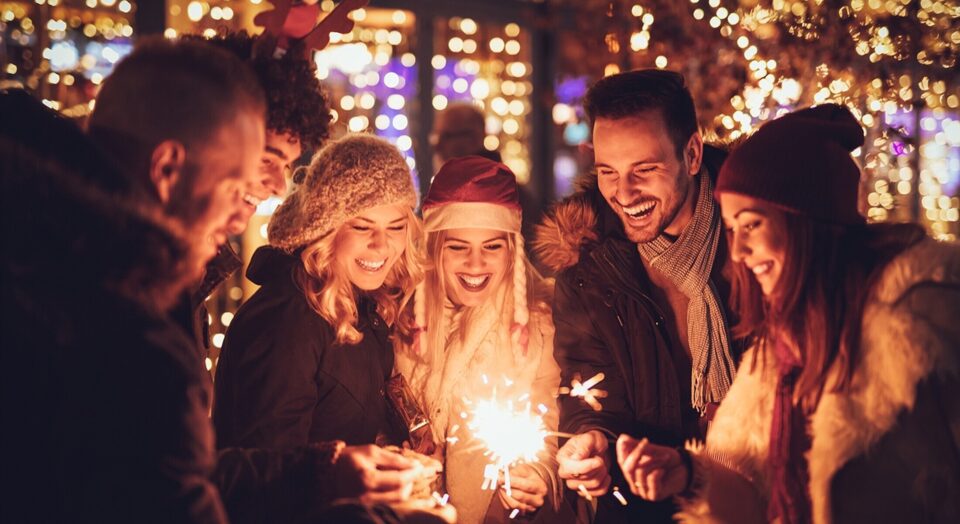 You've made, and are actually following, a detailed budget. You're carefully scouring the malls for the best deals while tracking prices on Amazon. And, you've agreed to set price limits on family gifts. But the holidays can still be an expensive time regardless—so we're here with seven beyond-the-basics tips to save yourself some dough this season.

1. Gift your skills.
Pretty much everyone has at least one skill that others around them covet. Maybe you're a skilled handyman/woman or a great cook. Maybe you're a professional photographer or hair stylist. Whatever your talent, you can probably make a gift out of it. You can employ your talents to craft a unique DIY present, or you can give someone a "coupon" they can redeem for your skills (for example, a family portrait, a haircut, or a catered dinner for two). You can also extend this idea to holiday parties, for example by bringing homemade cutout cookies as a hostess gift instead of an expensive bottle of wine.
2. Find frugal festivities.
Holiday get-togethers and family traditions don't have to be lavish or expensive. The season abounds with cheap or even free fun, like: free holiday concerts and parades in your community, a holiday cookie swap with the neighbors, a holiday movie party with friends, or a family sledding trip followed by some hot chocolate. Check out this compilation of holiday events in Virginia's Blue Ridge region for more ideas. Or, get your group together to volunteer in the community, whether by delivering meals or wrapping donated presents for kids—check out volunteermatch.org for a start.
3. Plan post-holiday shopping.
Chances are, you have some family or friends you won't be getting together with until after the officially designated gift-giving dates have passed. Perhaps they're traveling in from out-of-town, or perhaps it's your tradition to meet after the holiday hullabaloo has ended. Whatever the scheduling reason, you can likely get their presents at deeply discounted prices if you wait until after December 25. (As long as there isn't one specific item you have your heart set on gifting them that could potentially be sold out.)
4. Make a donation.
Making a charitable gift in a loved one's name to one of their favorite causes is a lovely and refreshing gesture—and hey, it could possibly be tax deductible for you as well!
5. Get rewarded.
If you're going to be spending big bucks, you might as well get a little something in return. If you plan to pay for presents with plastic, why not use a credit card that provides you cash back points or travel miles for every dollar spent? Some online shoppers swear by cashback online shopping portals like Ebates, where you can earn back a percentage of the money you spend. And, if you frequent the same stores regularly, look into loyalty programs that offer points in return for your holiday spending (and/or into redeeming points you may have already racked up.)
6. Start a seasonal side hustle.
True, your holiday schedule is likely pretty packed, but if you can squeeze in a seasonal weekend or evening job over the next six weeks or so—for example, working at a Christmas tree farm, wrapping presents at a retail center, or pet-sitting for holiday travelers—there's some extra money to be made this time of year.
7. Try the four gift challenge for kids.
If you're a parent, of course you want to make the holidays magical for your kids—but that doesn't need to mean a huge pile of expensive presents under the tree. Try the "four gift challenge" popular on parenting blogs and Pinterest. The four gift challenge suggests editing down to four gifts for each child:
Something they want.
Something they need.
Something to wear.
Something to read.
Bonus tip: Get ready for next year!
Before you roll your eyes and groan that it's "too soon," hear us out: the holidays will be back before you know it. (Just think about how fast this year flew by.) Start planning, and even saving, early in 2019 and come next December you'll be very glad you did. To help you stay on track, consider opening a Christmas Club savings account with your local credit union. These allow you to deposit a set amount of money each month, to be withdrawn right in time for the start of holiday shopping season next year.