Member One Reaches its 100,000th Member!
Share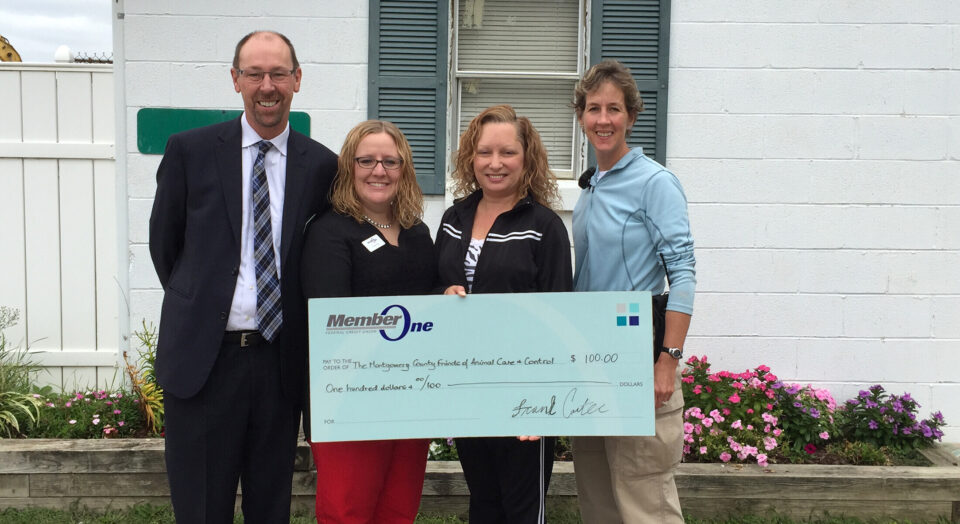 Member One Federal Credit Union announced it reached its 100,000th member on Sept. 22, 2016.
Paula Lockett, who opened an account at Member One's Christiansburg, Va. retail center, was thrilled to be part of this monumental day for Member One.
"I could hardly believe it when I got a call from the retail center telling me I was Member One's 100,000th member," said Lockett. "I will forever be a part of Member One's history!"

The credit union awarded Lockett a $100 deposit into her Member One account in honor of the occasion. Additionally, Member One will donate $100 to the Montgomery County Humane Society, the nonprofit of her choice.
"I greatly appreciate Member One's gesture in matching the award of $100," Lockett said. "As a confirmed animal lover, I'm so happy to nominate the Montgomery County Humane Society as the recipient of the donation."
Paul Economy, Chief Retail Officer for Member One, said the credit union anticipated and planned for its 100,000th member since the beginning of the year.
"We couldn't be more delighted to welcome Ms. Lockett as our 100,000th member," said Economy. "This is such a momentous occasion for the credit union, and it is a testament to the unflagging dedication and service ethic of our employees who have so richly earned the loyalty of our members."
In the lead-up to welcoming its 100,000th member, the credit union gave away $25 VISA gift cards through social media promotions on Instagram, Twitter, and Facebook throughout September. Members visiting Member One retail centers beginning on Sept. 22 also received 100 Grand candy bars.
"We couldn't let the occasion go unmarked," said Economy. "We want to celebrate with everyone in the communities we serve. After all, without them, we would not have experienced such success."
---
Member One Federal Credit Union is a full-service, member-owned financial institution serving the needs of its communities for over 75 years. Member One has over 100,000 members, over $750 million in assets, 12 branch locations, a Real Estate Center and a national ATM network.