Auto Dealer Network
Apply for a Member One auto loan right at the dealership. We partner with dozens of area dealerships to make the process of buying a vehicle as easy as possible.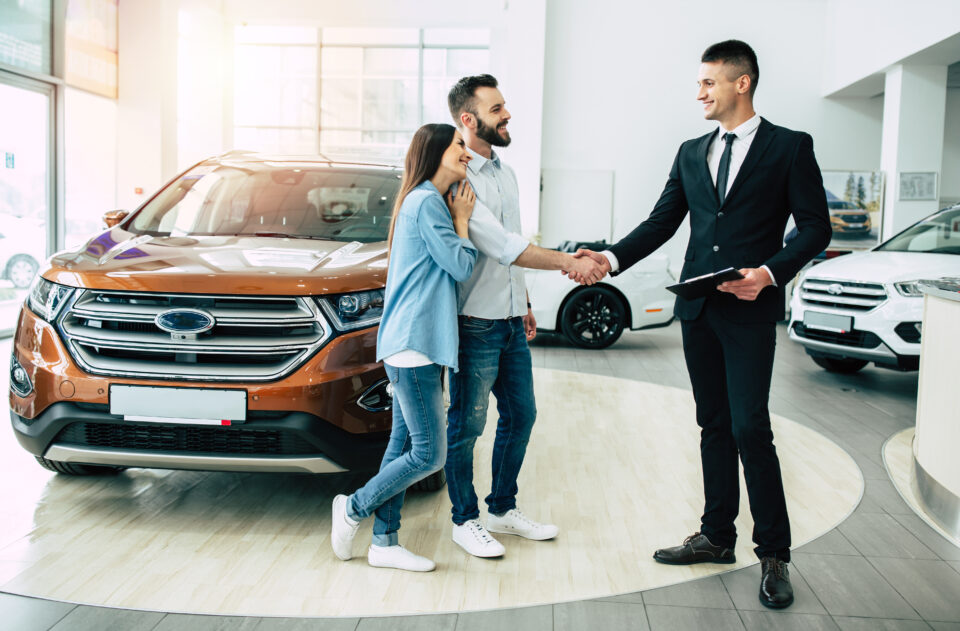 How It Works
When you shop at one of the dealerships listed below, tell them you're a Member One member, and that you want Member One financing.
Once the process is complete, we'll be in touch with you about making your payments.

Participating Dealer Network
ALTAVISTA
Fellers Chevrolet, 715 Main Street
Renaissance Chrysler Dodge Jeep RAM, 1163 Wards Road, Suite D
Renaissance Ford, 1163 Wards Road, Suite C
AMHERST
Amherst Car & Truck Sales, Inc., 122 Nicewood Place
Virginia Auto Outlet, 1873 S Amherst Hwy
APPOMATTOX
Auto-Mattox,151 Moses Avenue
Hi-End Auto, 700 N Court Street
BEDFORD
Berglund Buick- Ford- GMC of Bedford, 1415 Boxwood Terrace
Magic City CDJR Bedford LLC, 1750 Independence Boulevard
BLACKSBURG
Campus Automotive, 1208 N Main Street
Duncan Ford-Mazda-Lincoln, US 460 South
CHRISTIANSBURG
Duncan Honda, 2040 Roanoke Street
Duncan Hyundai, 2050 Roanoke Street
Motor Mile Kia, I-81 to exit 118C
Motor Mile Mitsubishi, I-81 to exit 118C
Rob N Son, 109 Depot Street NW
Shelor Chevrolet, I-81 and Exit 118C
Shelor Motor Mile, I-81 and Exit 118C
Shelor Chrysler-Dodge, I-81 and Exit 118C
Shelor Ford, I-81 and Exit 118C
Shelor Toyota, I-81 and Exit 118C
Shelor Subaru, I-81 and Exit 118C
Southern Team Automall of NRV, 2130 N Franklin Street
CONCORD
C&C Automotive, 1481 Doss Road
COVINGTON
Magic City Chevrolet Buick GMC, 345 Thacker Ave
Magic City Chrysler Dodge Jeep RAM, 603 S Monroe Ave

DUBLIN
First Stop Auto Sales, 4676 Cleburne Boulevard
FOREST
DNX Motor Sales, 1101 Burnbridge Road
Lynchburg Powersports, 1036 Jubal Early Drive
LEXINGTON
Magic City Ford Lexington, 51 North Ridge Lane
LYNCHBURG
Apple Ford of Lynchburg, 2113 Lakeside Drive
Berglund Kia of Lynchburg, 1215 Lakeside Drive
Berglund Luxury of Lynchburg, 2643 Lakeside Drive
Berglund Toyota, 19018 Forest Road
CMA's Honda of Lynchburg, 2634 Lakeside Drive
CMA's Hyundai of Lynchburg, 2625 Lakeside Drive
CMA's Chrysler Dodge Jeep Ram of Lynchburg, 2639 Lakeside Drive
Harley Davidson of Lynchburg, 20452 Timberlake Road
Lynchburg Kawasaki, 1101 Kemper Street
Lynchburg Mazda, 18576 Forest Road
Lynchburg Nissan, 18588 Forest Road
Pinkerton Chevrolet of Lynchburg, 801 Graves Mill Road
Terry Auto Outlet, 2828 Candler's Mountain Road
Terry Imports, 19134 Forest Road

MADISON HEIGHTS
First Choice, 4799 South Amherst Highway
Motor World, 4454 S Amherst Highway
PULASKI
Duncan Suzuki, 1601 Bob White Boulevard
Ike's Auto Sales, 713 Lee Highway
Pulaski Motor Mile, LLC., 1004 East Main Street
RADFORD
Harvey Chevrolet, 1500 Tyler Road
ROANOKE
Audi Roanoke, 2032 Peters Creek Road
Berglund Chevrolet-Jeep-Buick, 1824 Williamson Road
Berglund Chrysler Jeep, 2525 Franklin Road
Berglund Used Car Super Center, 3530 Franklin Road
Berglund Luxury, 5040 Franklin Road
BMW of Roanoke, 2012 Peters Creek Road
Brambleton Imports, 3322 Brambleton Avenue SW
Brookside Auto Sales, 6718 Williamson Road
Duncan Service and Pre Owned, 2824 Franklin Road
Enterprise Car Sales of Roanoke, 4721 Melrose Avenue
Haley Toyota Inc, 2711 Franklin Road SW
Magic City Ford, 809 Williamson Road
MotoSport, 5120 Peters Creek Road
Parks Acura, 2006 Peters Creek Road
Priority Honda Roanoke, 3311 Peters Creek Road
Roanoke Valley Harley Davidson, 1925 Peters Creek Road
Southern Team Automall, 6520 Peters Creek Road
ROCKY MOUNT
Duncan Ford-Chrysler-Dodge-Jeep, 17189 V. H. Goode Highway
Midpoint Chevrolet-Buick-GMC Trucks, Inc., 17801 Virgil H Goode Highway
Randy's Auto Sales, 1565 Franklin Street
Quinn's Automotive, 1605 Franklin Street
220 Auto Sales, 18201 Virgil H Goode Highway
SALEM
Berglund Ford-Mazda, 834 East Main Street
Frontline Eurosports, 1003 Electric Road
Hart GMC, 1341 East Main Street
Hart KIA, 1361 East Main Street
Pinkerton Chevrolet, 925 North Electric Road
SPOUT SPRINGS
Cedar Line Automotive, 5547 Richmond Highway
TROUTVILLE
Berglund Outdoors, 2590 Lee Highway